EDUCATION COORDINATOR (BILINGUAL, PART TIME)
---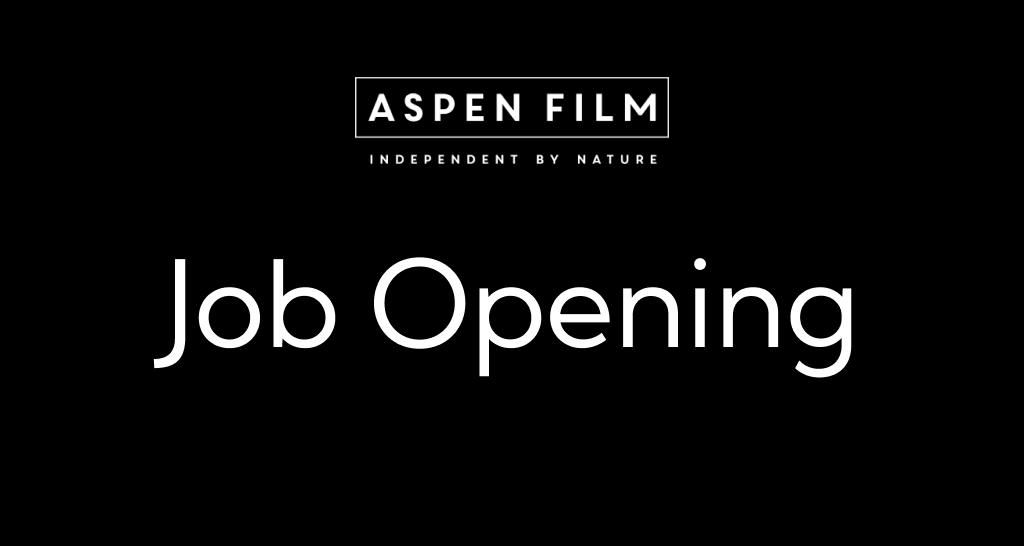 EDUCATION COORDINATOR (BILINGUAL, PART TIME)
COORDINADOR DE EDUCACIÓN (BILINGÜE, MEDIO TIEMPO)
Job Description
The Education Coordinator will support the Head of Education in furthering the initiatives and goals of the organization's education program. The Coordinator will interact with students, teachers, parents, filmmakers, and other community partners to bring quality programming into the schools. The focus will be on helping Aspen Film better serve the Latinx community, by working to diversify programming and access for all students and families in the Roaring Fork Valley. 
Responsible For:
Providing coordination & support for Aspen Film's year-round FilmEducates programs, screenings, festivals and events.

Working to cultivate relationships with students, teachers, and other youth-centric organizations to deliver relevant educational programs the community

Helping to develop and conduct conversations with students, educators, filmmakers and industry to assess the impact of the FilmEducates programs

Helping to create, plan, and execute bilingual and Spanish-language focused programming

Researching and organizing data related to education programming

Assisting in maintaining data tracking systems, methods of measuring engagement and overall impact

Updating education-related documents and organizing files

Assisting with internship programs by mentoring and supporting young adults in their development 

Helping to streamline communication with teachers, schools, and filmmakers during festivals

Providing on-site production support for Summer Filmmaking Camps

Screening films for education programs when needed

Helping to develop curriculum and other resources 

Assisting in delivering educational film programs across various platforms (Vimeo, YouTube, TikTok, etc.)

Helping with social media for the education department

Other duties as needed
Skills and Life Experience:
Passionate about young people, education, film, and the arts

High school graduate or GED

Experience in related fields (education, youth development, nonprofit organizations) preferred

Bilingual (Spanish/English) skills required

Multi-tasking and time-management skills, with the ability to prioritize tasks

Exceptional attention to detail

Excellent verbal and written communication skills

Ability to be a self-starter, work independently, plan ahead 
 Compensation: This is a year-round, part-time position (15 – 20 hours/week), working both off-site in schools and community centers and on-site in Aspen. Extended hours during festivals. Hourly rate $23 – $27, depending on experience.
To Apply: Send cover letter and resume to aspenfilmeducates@gmail.com 
It is the policy of the Aspen Film to ensure equal employment opportunity without discrimination or harassment on the basis of race, color, religion, sex, sexual orientation, gender identity or expression, age, disability, marital status, citizenship, national origin, genetic information, income level or any other characteristic protected by law. Under applicable laws, Aspen Film employs only United States citizens and individuals who are authorized to work in the United States.
Descripción del trabajo
El Coordinador de Educación apoyará al Jefe de Educación en la promoción de las iniciativas y metas del programa educativo de Aspen Film. El Coordinador tendrá que  interactuar con estudiantes, maestros, padres, cineastas y otros socios de la comunidad para traer programación de calidad a las escuelas. Se enfocará en ayudar a la organización a servir mejor a la comunidad Latinx, trabajando para diversificar la programación y el acceso para todos los estudiantes y familias en valle del Roaring Fork.
Responsabilidades:
Brindar coordinación y apoyo para los programas anuales de Aspen Film, proyecciones, festivales y eventos de FilmEducates.

Cultivar relaciones con estudiantes, maestros y otras organizaciones centradas en la juventud para ofrecer programas educativos que sean relevantes a la comunidad.

Ayudar a desarrollar y realizar conversaciones con estudiantes, educadores, cineastas y la industria cinematográfica para evaluar el impacto de los programas de FilmEducates.

Ayudar a crear, planificar y ejecutar programación bilingüe (inglés/español).

Investigar y organizar datos relacionados con la programación educativa.

Asistir en el mantenimiento de sistemas de seguimiento de datos, métodos para medir el compromiso y el impacto general.

Actualizar documentos relacionados con la educación, y organización de archivos.

Ayudar con los programas de pasantías asesorando y apoyando a los  jóvenes en su desarrollo.

Ayudar a agilizar la comunicación con profesores, escuelas y cineastas durante los festivales.

Brindar apoyo de producción en sitio para campamentos de cine de verano.

Proyección de películas para programas educativos, cuando sea necesario.

Ayudar a desarrollar el plan de estudios y otros recursos.

Asistir con programas de cine educativo en varias plataformas (Vimeo, YouTube, TikTok, etc.).

Ayudar al departamento de educación con las redes sociales.

Otras obligaciones según sea necesario.
Habilidades y experiencia de vida:
Pasión por la educación, la juventud, el cine y las artes.

Graduado de escuela secundaria o GED (título de educación general).

Se prefiere experiencia en campos relacionados (educación, desarrollo juvenil, organizaciones sin fines de lucro).

Se requieren habilidades bilingües (español/inglés).

Habilidades en múltiples áreas y manejo eficiente del tiempo, capacidad de priorizar tareas.

Excepcional atención al detalle.

Excelentes habilidades de comunicación verbal y escrita.

Capacidad para emprender proyectos, trabajar de forma independiente y planificar con anticipación.
Compensación: Este es un puesto anual de medio tiempo (15 a 20 horas por semana), trabajando tanto en la oficina de Aspen como en escuelas y centros comunitarios. Más horas requeridas durante los festivales. $ 23 – $ 27 por hora, de acuerdo a la experiencia.
Para aplicar: envíe una carta de presentación y currículum a  aspenfilmeducates@gmail.com 
Es política de Aspen Film garantizar la igualdad de oportunidades de empleo sin discriminación ni acoso por motivos de raza, color, religión, sexo, orientación sexual, identidad o expresión de género, edad, discapacidad, estado civil, ciudadanía, nacionalidad, información genética, nivel de ingresos o cualquier otra característica protegida por la ley. De acuerdo con las leyes aplicables, Aspen Film emplea solo a ciudadanos de los Estados Unidos y personas autorizadas para trabajar en los Estados Unidos.
Working to Enlighten, Enrich, Educate, and Entertain Through Film